Kevin Duke of Kentucky was delighted to give his daughter her first automobile. It was important to him to get the best car he could, so he bought a nice old car. But he didn't know that it wasn't just "a car." It held a secret that tore at his heartstrings.
Kevin wanted to drive the car himself since his daughter was just a few weeks away from obtaining her driver's license, so he meticulously checked it inside and out. He also checked the glove box, but it wasn't until he felt a small rubber mat that he realized there was a note inside. "Important Info Inside," it said. It was addressed to the new owner.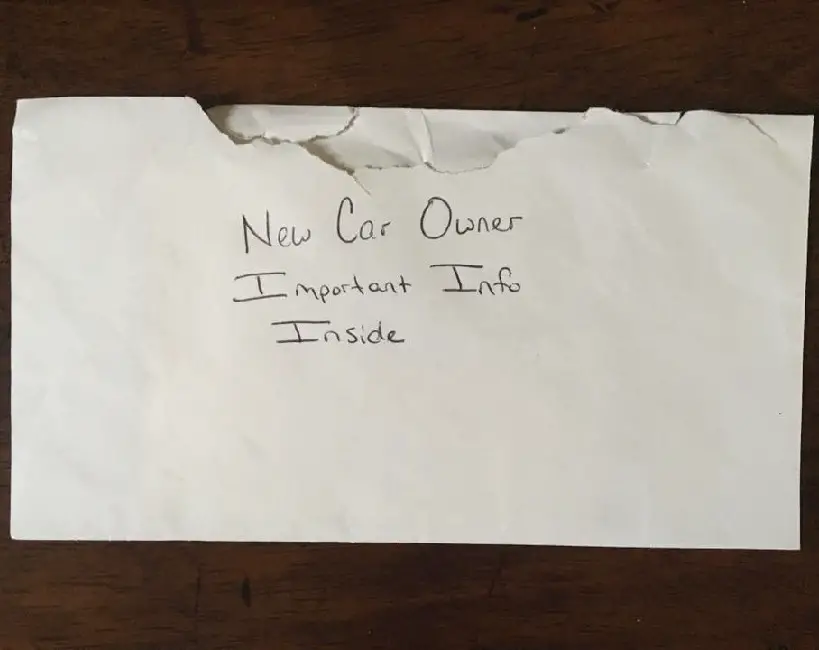 To share his strange experience with his friends, Kevin posted about it on Facebook.
"Well, yesterday I was messing around in it and I opened this storage container on top of the dash (which I've already opened a half dozen times)." This time, I noticed a rubber pad at the bottom, so I pulled it out. To my astonishment, I find this letter in the mail. I'm not going to lie, I shed a few tears.
Even took a picture of the letter. He was moved to tears by it, and no one who read it was spared tears.
This is what it said:
"I simply wanted to let the person who receives this car know what a unique car you've purchased.". This car belonged to my mother. On February 25, 2015, my 6-year-old daughter and aunt died in a house fire. On the day she left us, my mother drove this car for the last time. We went shopping and I had my hair cut."
While the person who wrote the letter cherished the car, she had no choice but to sell it.
This car holds a lot of memories for me. My house and everything in it are gone, and all I could do was hold this car. As a result of a snafu with the paperwork, the insurance company did not pay off the automobile. It's quite painful because I have lost my home, my family, and now, through no fault of my own, I am losing this last link I have with my mother and child."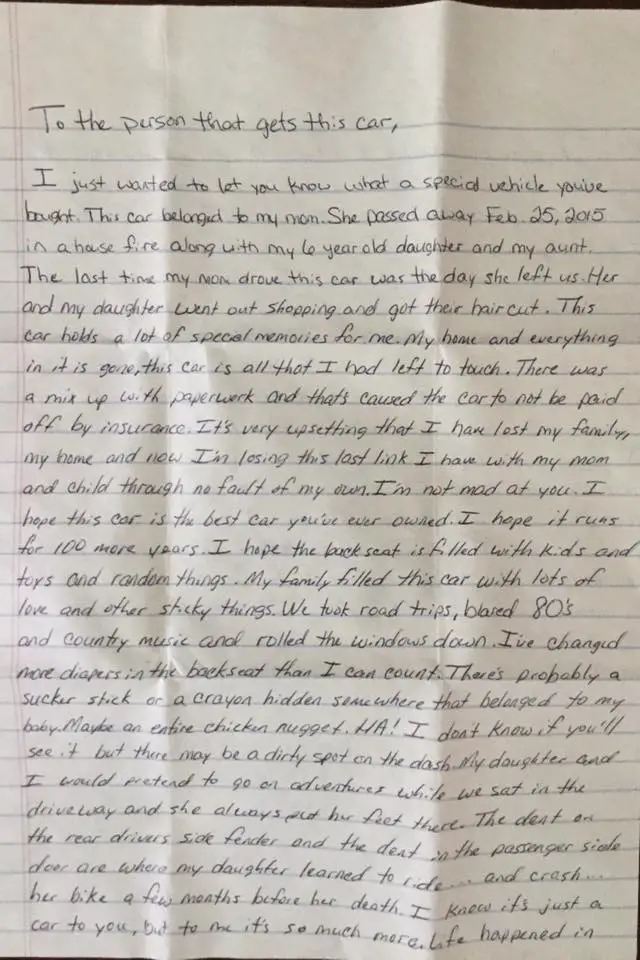 The previous owner and her family made great memories in that car over their memorable travels. It was a testament to their joy and to a time that would never be repeated.
"I'm not angry with you." I hope you enjoy it as much as I do. Let's hope it lasts another 100 years. My hope is that the backseat is stuffed with kids, toys, and other items. This automobile was crammed full of love and other sticky stuff by my family. We rolled down the windows and blasted 80s and country music on road trips. It's hard for me to count how many diapers I've changed in the backseat. There is probably a sucker stick or a crayon somewhere that belonged to my child. Maybe a whole chicken nugget. HA!"
The car wasn't the prettiest, but the reason for its significance to the woman who sent the letter was.
My kid and I would sit in the driveway and pretend to go on excursions, and she would always place her feet there. "I don't know if you'll notice, but there might be a dirty spot on the dashboard." My daughter learnt to ride…and crash…her bike a few months before her death in the dent on the rear drivers side fender and the dent in the passenger side door."
"I realize it's just a car to you, but it's so much more to me." Things happened in this car. There was love, laughter, and adventure. Keep in mind that it's more than just a car now that it's yours. It's just a memory. My family's final piece is this car, with all of its peculiarities. Please respect it. Play a country tune. Big Green Tractor or Freebird by Lynyrd Skynyrd was my daughter's favorite song. We played that song at their funerals because it meant so much to us.
Kevin's girl will always have "someone" by her side while she drives that car.
"You are surrounded by angels." My guardian angels. In any case, I'm sure they would be interested in seeing and hearing about any new adventures you have in this car. Her name is Sylvia. Dr. Hook's Sylvia's Mother aired on the radio the same day my mom acquired this car, so we all rode around and the name just stuck when my daughter said that's what the car should be called. Just don't call her anything else."
The letter ended with a plea.
"Please let me know if you ever want to sell Sylvia." I've recently paid for three funerals, so I can't afford to buy it now, but maybe I'll be in a better financial position later if you decide she's no longer right for you. Live and love as we did, and be joyful, blessed, and blessed. My best wishes to you and Sylvia!"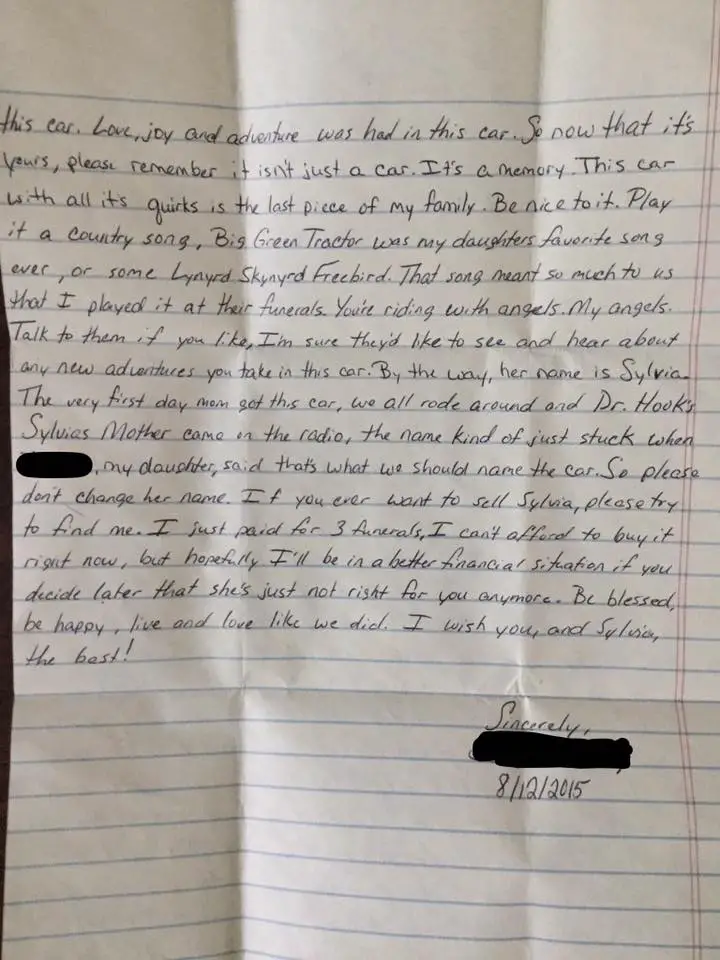 Source: thedad.com