A 16-year-old girl gave birth to her daughter at Bethesda Home for Girls, but she never held her. Four decades later, she met her daughter for the first time in her life.
Nancy Womac was raised in an orphanage in Dalton, Georgia, before discovering she was pregnant. After learning that she was about to give birth, the orphanage administrators sent her to Bethesda Home for Girls.
The adolescent had no idea what lay ahead in the new location. Behind closed doors, Womac's stay turned into a nightmare.
Her grandparents raised Womac and her brothers. Womac was sent to an orphanage in Dalton after his parents died.
After spending a few years there, she fell in love with a man and got pregnant when she was 16. Because the orphanage was unable to raise a child, she was sent to Bethesda Home for Girls, which specializes in raising difficult girls. She remembered:
"It was a long dirt road from the main road down to Bethesda. The path just kept going and going until it came to an end at this long white building. It was like a nightmare come true."
Although the home claimed to educate children according to religious teachings, something else was going on behind closed doors. These women claimed they had no choice in the matter.
Womac decided to flee the area because the homeowners tightly controlled her life. The main doors were always closed, so she couldn't leave.
Her daughter was taken away from her before she could see her.
Bethesda authorities decided about the girls' lives and where their children would go. Mothers were often forced to give up their children to families willing to pay a high price for them.
She gave birth to her daughter in June 1979, but she never had the chance to hold her. She longed to see her child for many years before finally meeting her.
Bethesda officials brought her to East Ridge, Tennessee, for her delivery. She recalls losing consciousness after receiving an injection. Her explanation:
"I don't recall having her before. I don't recall being rolled into the birthing room. It doesn't come to mind. When I awoke, she had already left."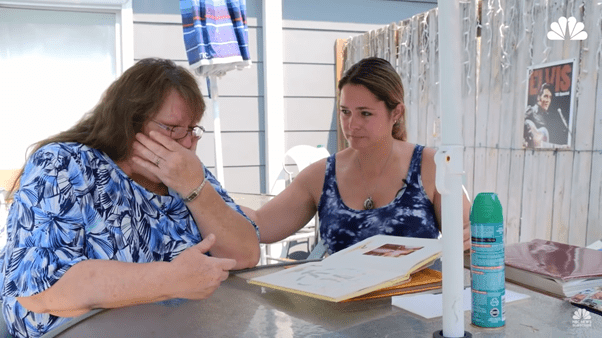 The 16-year-old girl was ready to start a family and take care of it, but Bethesda officials had other ideas. They took her daughter away from her before she could see her.
Her daughter had become a mental image in her mind and she would wonder what she would be up to. She baked her a birthday cake every year and toasted her achievements, expecting that she would achieve them. She admitted:
"I recall thinking to myself, 'Well, she should be taking her first steps now,' or 'She should have lost her first tooth,' or 'Her first day of school should have begun.'"
Melanie Spencer, her daughter, was just as interested in learning more about her as she was. In Indonesia and South Africa, she was adopted and reared by a missionary couple. Her mother wanted her to go to a "decent Christian household," they said.
The small girl was dissatisfied with the information provided by her parents. She was interested to discover more about her birth mother and had many questions about her. She remembered:
"I wanted to track her out and learn more about her. I believe there was a fear that if I probed further and discovered she didn't want me, it would be devastating."
Spencer moved to the United States to pursue her higher education and became a counselor. The first time she thought about Womac was when she had children and wondered what she would tell them about their ancestors if they inquired.
She took an Ancestry DNA test to learn more about her birth parents and eagerly awaited the results.
The test results led her to Cheryl Blackwell, Womac's sister. In an attempt to connect her with her mother, she sent her a message, but Blackwell did not check her mailbox for another year.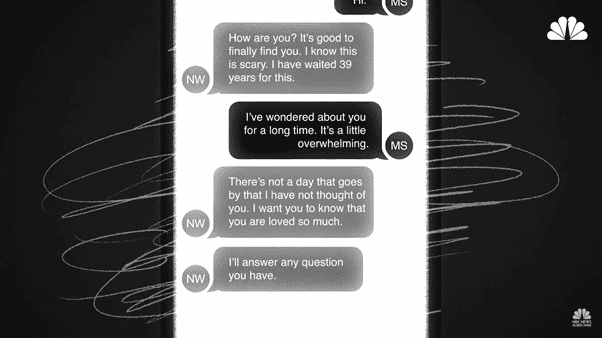 Blackwell connected Womac and Spencer as soon as he read the note. They added each other to Facebook and conversed about their feelings.
Womac expressed her happiness at finally being able to speak with her daughter. Spencer also mentioned that she had always wanted to know who her biological mother was, and that conversing with her on Facebook was strange. Womac answered.
"There isn't a day that goes by that I don't think of you. I want you to know how much you are cherished."
After speaking with her mother, Spencer decided to drive from her Maryland home to her mother's home in Georgia. It was difficult for her to imagine seeing her mother after four decades.
Her anxiety turned into tears the moment she saw her mother for the first time. Womac, on the other hand, was overcome with joy when she saw her firstborn – a girl she had only imagined. Before Spencer returned to her home, the mother and daughter spent many days together.
Womac hopes that sharing her story will inspire other Bethesda survivors. While she never expected to see her long-lost daughter again, fate had other plans for them when they were separated.
Visit here to read another story about an emotional reunion between brothers decades after their parents d.i.e.d.
Source: newscolony.com